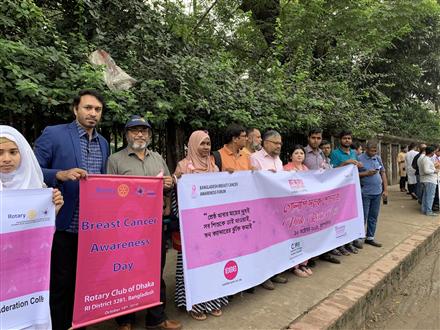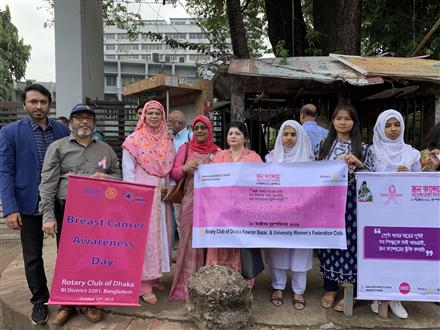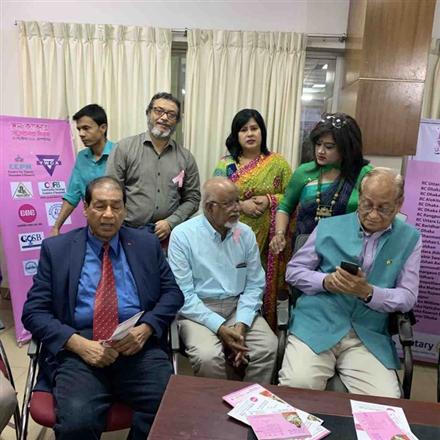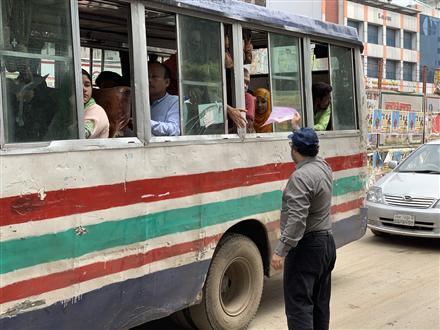 Breast Cancer Awareness Program: Long Live

Breast Cancer Awareness Seminar and Rally held on October 10, 2019, jointly with other 68 Clubs.
Rotary Club of Dhaka participated in the Breast Cancer Awareness Seminar and Rally along with 68 Rotary Clubs on October 10, 2019. On this day all club members gathered in front of the National Press Club at 10 am, arranged the human chain and distribute informative leaflets in Bangla up to 10.45 am. All the clubs came with a small banner or festoon with the logo and name of your club. Later clubs took part in a roundtable at the VIP Lounge of National Press Club at 11.00 am sharp. Vice-Chancellor of Bangabandhu Sheikh Mujib Medical University Professor Kanak Kanti Barua inaugurated the program. Reputed experts and activists discussed on Breast Cancer Awareness and Screening. President of Rotary Club of Dhaka Rtn. Dr. Niaz Abdur Rahman and Secretary Rtn Muhammed Sameer Uddin took part in the program from the Club.
Project location: Bangladesh
Project dates:
Start: 10 October 2019
End: 10 October 2019
Created: 13 October 2019
✓ This project is complete.
Project category: Community, Disease prevention and treatment
Funding: Club Foundation
Project contacts: Muhammed Sameer Uddin, Dhaka
Partners: Dhaka Mahanagar, Bangladesh (Rotary Club)
Dhanmondi Dhaka, Bangladesh (Rotary Club)
Greater Dhaka, Bangladesh (Rotary Club)
Metropolitan Dhaka, Bangladesh (Rotary Club)
Dhaka Rose Vale, Bangladesh (Rotary Club)
Dhaka North West, Bangladesh (Rotary Club)
Alokito Dhaka, Bangladesh (Rotary Club)
Sonargaon Dhaka, Bangladesh (Rotary Club)
Bogra, Bangladesh (Rotary Club)
Dhaka Pallabi, Bangladesh (Rotary Club)
Dhaka, Bangladesh (Rotary Club)
Dhaka Kawran Bazar, Bangladesh (Rotary Club)
Dhaka North, Bangladesh (Rotary Club)