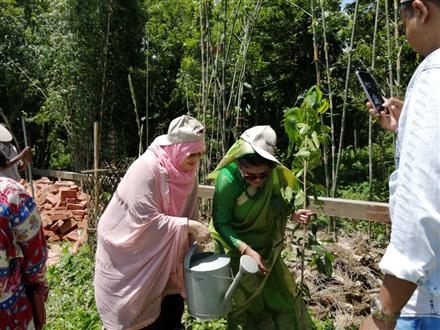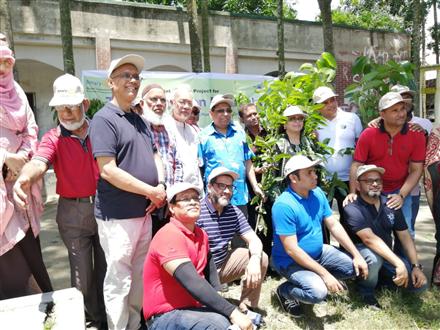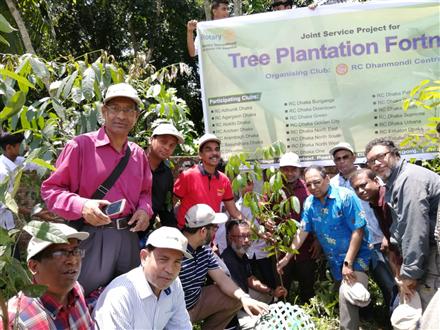 Tree Plantation Forthnight

Tree Plantation Forthnight
The Rotary club of Dhanmondi cental orgarized a Joint club project named "Tree Plantation Fortnight" Destrict Governo M Khairul Alam also present there. 34 different clubs attend this project on 27 July 2019 at Arongabad Manikgonj Dhaka and plant more 200 tree. Its the Dhanmondi cCentral's RCC 1. the community club shall maintain the plant.
Project location: Bangladesh
Project dates:
Start: 27 July 2019
End: 27 July 2019
Created: 01 August 2019
✓ This project is complete.
Project category: Community, Community economic development
Funding: Club Foundation
Project contacts: Zaid Md. Morshadul Anam Siddiqui, Dhanmondi Central
Partners: Dhanmondi Central, Bangladesh (Rotary Club)
Gazipur, Bangladesh (Rotary Club)
Shyamoli-Dhaka, Bangladesh (Rotary Club)
Dhaka Supreme, Bangladesh (Rotary Club)
Greater Dhaka, Bangladesh (Rotary Club)
Sher-E-Bangla Nagar, Dhaka, Bangladesh (Rotary Club)
Gulshan Lake City, Bangladesh (Rotary Club)
Dhaka North South, Bangladesh (Rotary Club)
Mirpur Central, Bangladesh (Rotary Club)
Arambagh Dhaka, Bangladesh (Rotary Club)
Uttara, Bangladesh (Rotary Club)
Dhaka Rose Vale, Bangladesh (Rotary Club)
Adhunik Dhaka, Bangladesh (Rotary Club)
Dhaka Golden City, Bangladesh (Rotary Club)
Dhaka South, Bangladesh (Rotary Club)
Dhaka North West, Bangladesh (Rotary Club)
Fatullah Narayanganj, Bangladesh (Rotary Club)
Dhaka Downtown, Bangladesh (Rotary Club)
Eskaton Dhaka, Bangladesh (Rotary Club)
Dilkusha, Dhaka, Bangladesh (Rotary Club)
Uttara Green City, Bangladesh (Rotary Club)
Dhaka Buriganga, Bangladesh (Rotary Club)
Alokito Dhaka, Bangladesh (Rotary Club)
Ramna, Bangladesh (Rotary Club)
Dhaka Abani, Bangladesh (Rotary Club)
Dhaka Pallabi, Bangladesh (Rotary Club)
Dhaka Green, Bangladesh (Rotary Club)
Dhaka, Bangladesh (Rotary Club)
Dhaka Anirban, Bangladesh (Rotary Club)
Dhaka North East, Bangladesh (Rotary Club)
Dhaka One, Bangladesh (Rotary Club)
Dhaka Urbana, Bangladesh (Rotary Club)
Uttara Lake View, Bangladesh (Rotary Club)
Basundhara Dhaka, Bangladesh (Rotary Club)