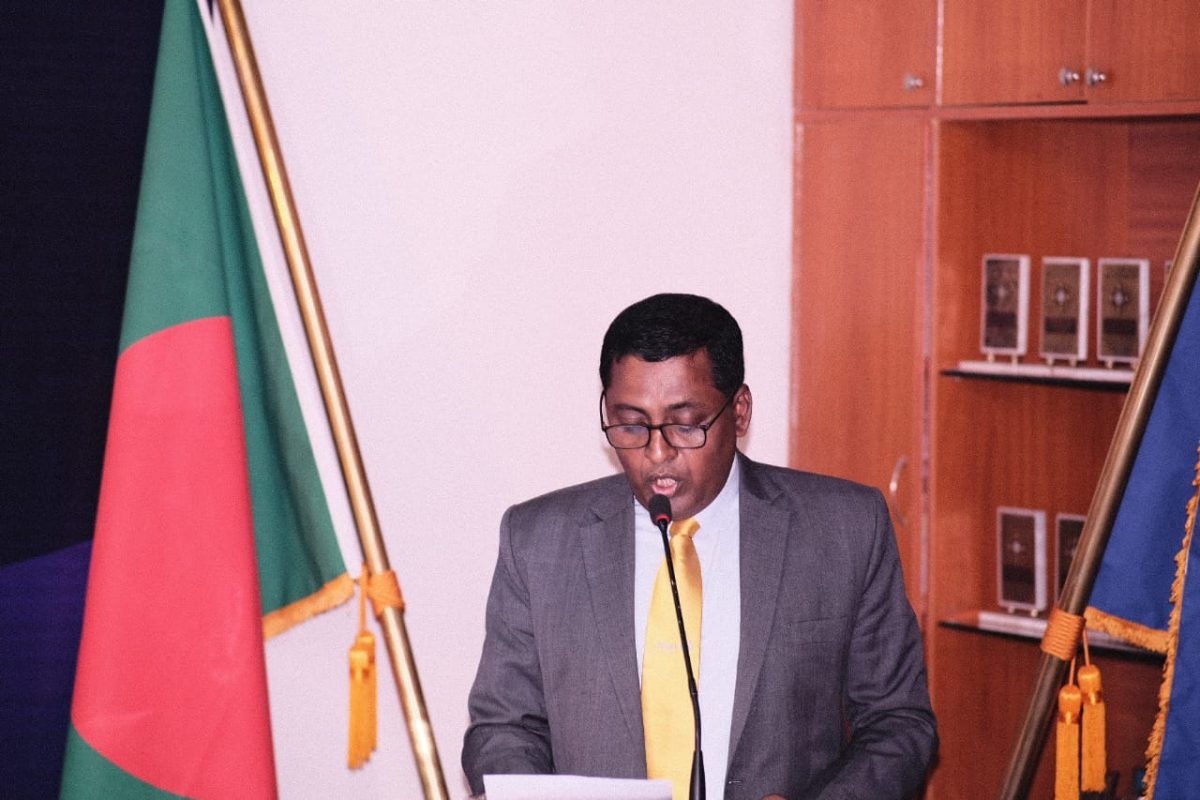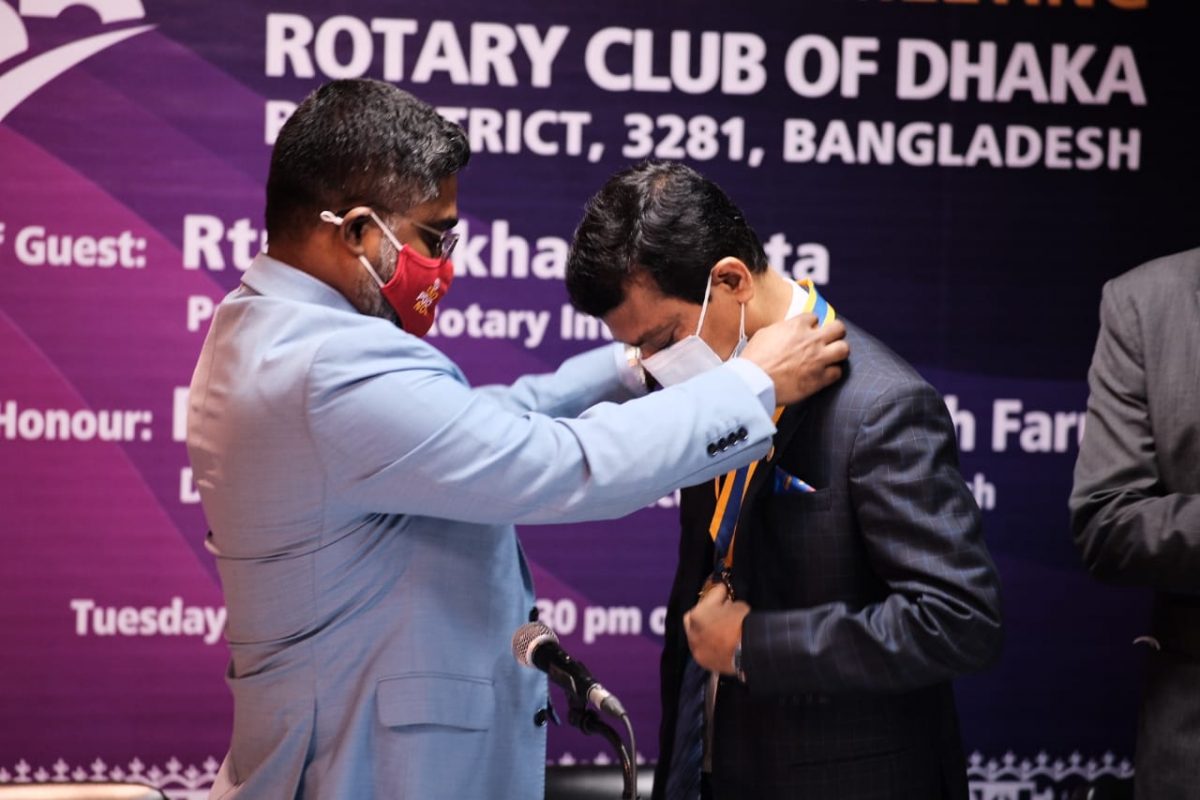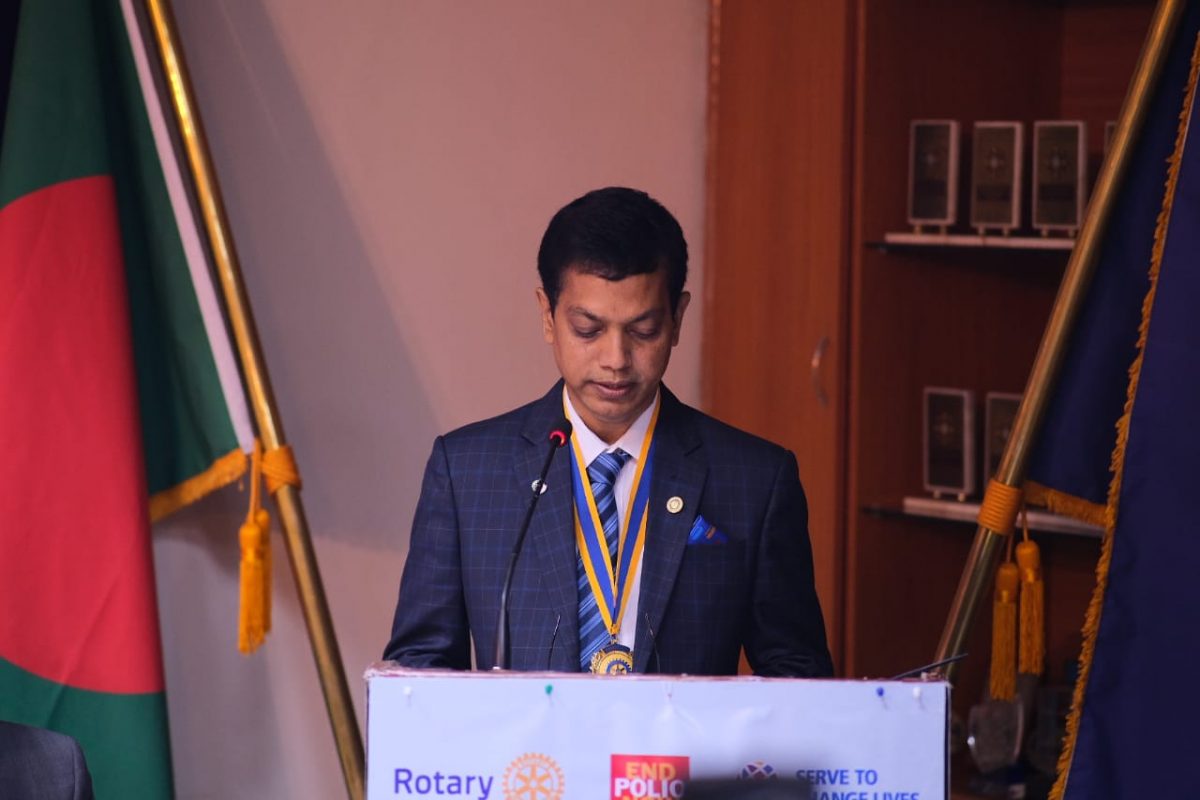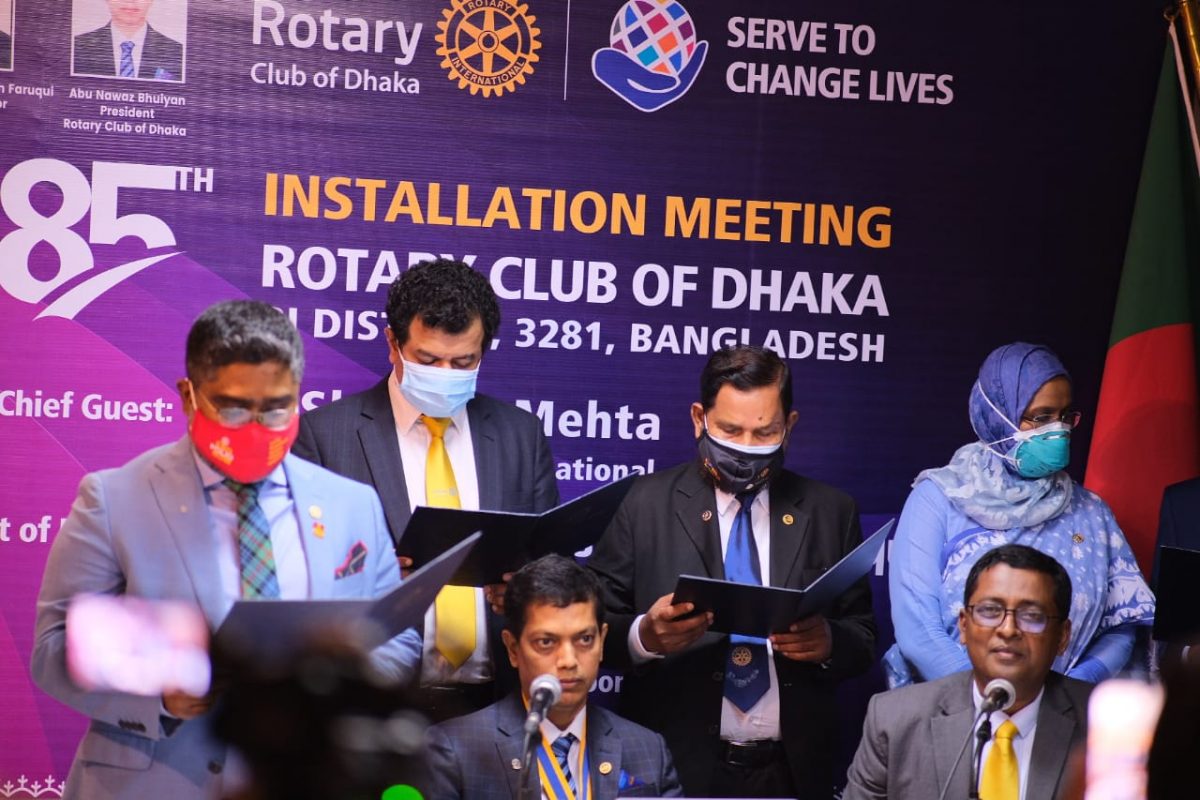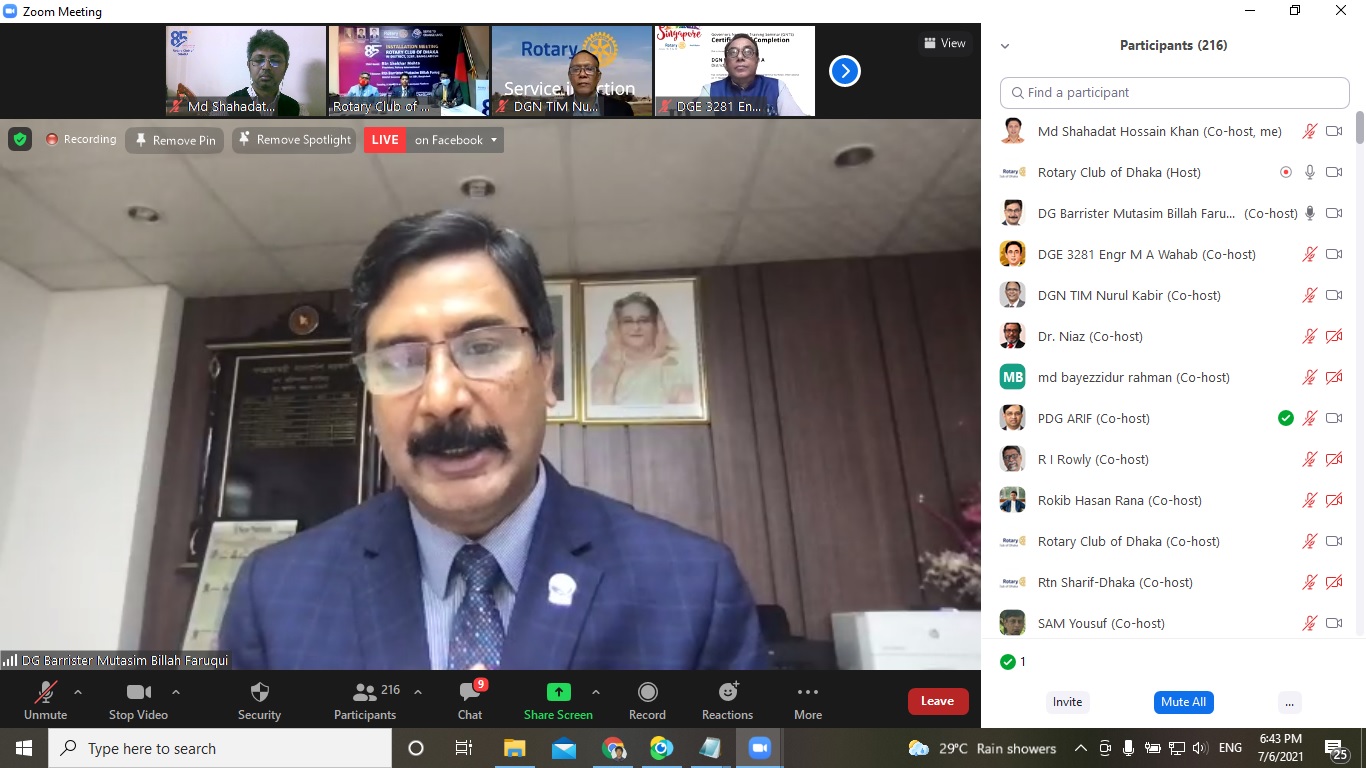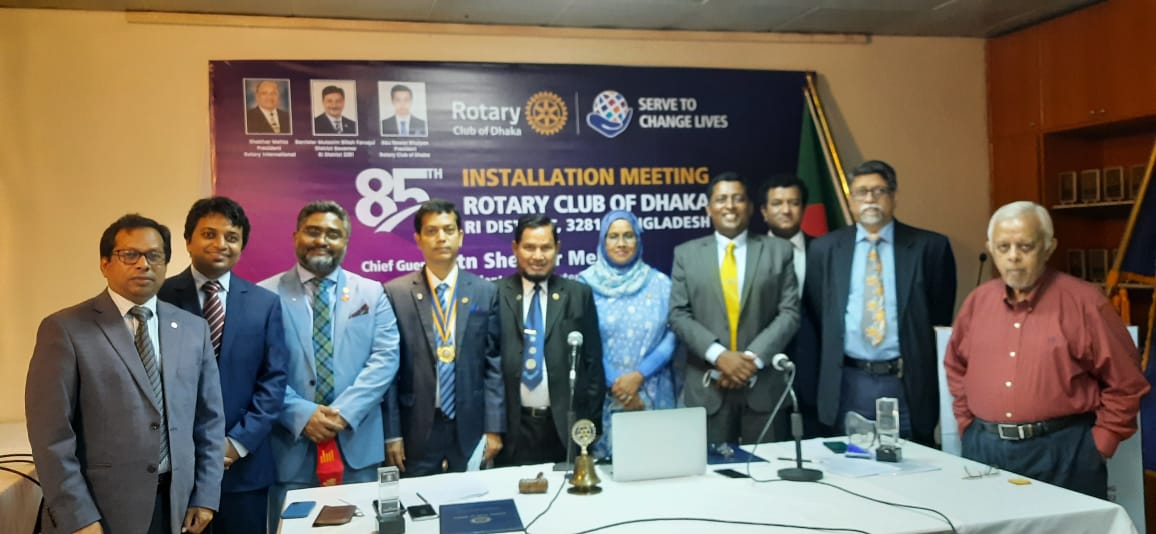 ---
85th Installation Meeting of Rotary Club of Dhaka, RID 3281, Bangladesh held on 6th July 2021 over Zoom platform Chaired by Rtn PP Md Nasimul Hoq Majumder. The meeting started with a welcome speech by the Chair followed by recitation from the Holy books, national anthem and handing over the Presidential Collar with lapel Pin by IPP Rtn Barrister Shafayat Ullah to Club President Rtn Abu Nawaz Bhuiyan. Rtn SAM Yusuf recited from the holy Quran and Rtn NC Pandit recited from the holy Gita.
Club President Rtn Abu Nawaz Bhuiyan welcomed all and called the meeting to order and at his request Rtn Dr Ireen Akter led the invocation. Club President handed over the proceedings to Installation Chair Rtn PP Nasim and at his request Immediate past Club Secretary Rtn Shariful Kabir placed his secretarial report. He informed the Club activities in brief of Rotary year 2021-21 with a number of new records in TRF, Global grant projects, Covid related projects and the first time AKS membership from club and highest number of weekly meetings (52) with guest speakers. At Chairs request IPP Rtn Barrister Shafayat Ullah delivered his speech with thanks and gratitude to all the club members for their whole hearted support and involvements during his leadership and accomplishing so many benchmarks of Club activities in most of all avenues of services. He wished for the Club president Rtn Nawaz for another successful Rotary year 2021-22. At Chairs request Rtn PP SM Anwar Hossain recognized the 100 percenter Rotarians who have joined all the weekly meetings during RY 2020-21. Rtn PP Rafiqul Islam Rowly introduced Club President Rtn Abu Nawaz Bhuiyan and at Chairs request President delivered his welcome speech where he forecasted his year plans and works to be done. He assured the Club members and distinguished guests to keep up the level of RC Dhaka even higher. At the Chair Nasim Majumder's requests Guest of Honor and District Governor Rtn Barrister Mutasim Billah Faruqui conducted the oath of President. President Nawaz introduced his Board members and at his request District Governor administered the Oath of the members of the Board. In their felicitation both District Governor Elect Rtn Engr MA Wahab and District Governor Nominee Rtn TIM Nurul Kabir delivered their speech and wished for Club President and his newly installed Board.
Rtn PP Dr Niaz Abdur Rahman introduced in brief the Guest of Honor and District Governor Rtn Barrister Mutasim Billah Faruqui and at his request DG delivered his speech. He expressed his gratitude with thanks for the sky level contribution in expanding Rotary in Bangladesh of the premier club Rotary Club of Dhaka through their different levels of projects of service to humanity. In his speech he expected the continuation of the club activities to be the highest this Rotary year also. He urged upon the President and its members to play more and more exemplary roles both in Club and District levels. District Governor Faruqui's recognition was inspirational and motivational. He thanked Installation Chair Rtn Nasim and Club President Rtn Nawaz for arranging such a nice Installation meeting which could be followed by other Rotary clubs.
Rtn Shekhar Metha, President, Rotary International were supposed to grace the meeting as Chief guest but unfortunately, he could not attend due to the sudden death of his beloved mother Vallabh Kumari Mehta on 4th July 2021 and for completing rituals he has to restrict himself from all activities for four days. At the request of Installation Chair all the participating guests have observed silence for 30 seconds and prayed for the departed soul to rest in peace.
At Chairs request Rtn PP Bayezidur Rahman introduced all the attendee guests and PDG Rtn FH Arif offered vote of thanks. Chair Rtn Nasim handed over the proceedings to Club President Rtn Abu Nawaz. Club President Rtn Nawaz handed over mementos as token of appreciation to IPP Rtn Shafayat and Event Chair Rtn PP Nasim and Rtn Nasim handed over a crest to Club President Rtn Nawaz.
At the Presidents request Club Secretary Rtn Hasan Rokib Rana gave his announcement and then Club President gave heartfelt thanks to all the guests and attended participants and adjourned the meeting.
Rtn Engr.Md Aktaruzzaman Bhuiyan
Secretary
85th Installation Committee
Rotary Club of Dhaka
Invitation link of this program was https://rcdhaka.org/2021/07/14/85th-installation-invitation/