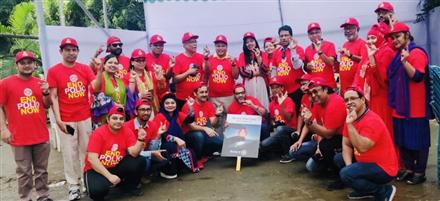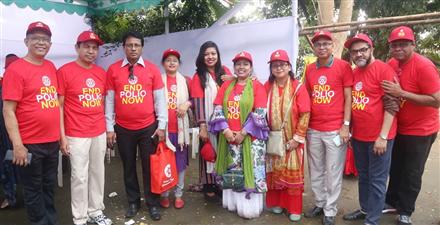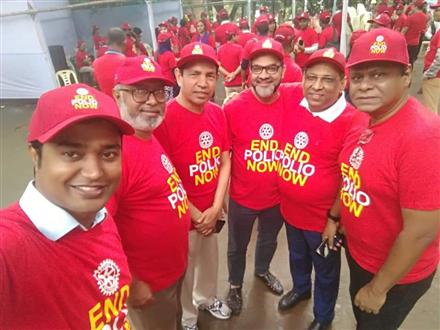 Rally on World Polio Day 2019
Rally on World Polio Day 2019
On the Occasion of World Polio Day 2019. Rotary District 3281(Bangladesh) is organized a Rally on 25th October 2019, 09:00 AM, at Rabindra Sorobor, 12 Dhanmondi Lake Rd, Dhaka 1205. Here Sponsor Club was Rotary Club Of Dhanmondi Central and other 89 clubs were Co-Sponsor.
Project location: Bangladesh
Project dates:
Start: 25 October 2019
End: 25 October 2019
Created: 01 December 2019
✓ This project is complete.
Project category: Polio, Disease prevention and treatment
Funding: Club Member Fund
Project contacts: Md. Shafiul Alam Uzzwal, Dhanmondi Central
Partners: Dhaka Midtown, Bangladesh (Rotary Club)
Dhaka Mega City, Bangladesh (Rotary Club)
Bhawal, Bangladesh (Rotary Club)
Bijoynagar Dhaka, Bangladesh (Rotary Club)
Bagerhat, Bangladesh (Rotary Club)
Dhanmondi Central, Bangladesh (Rotary Club)
Faridpur, Bangladesh (Rotary Club)
Dhaka Mahanagar, Bangladesh (Rotary Club)
Gazipur, Bangladesh (Rotary Club)
Motijheel, Dhaka, Bangladesh (Rotary Club)
Dhanmondi Dhaka, Bangladesh (Rotary Club)
Ananya Dhaka, Bangladesh (Rotary Club)
Shyamoli-Dhaka, Bangladesh (Rotary Club)
Dhaka Supreme, Bangladesh (Rotary Club)
Dhaka Central, Bangladesh (Rotary Club)
Turag Uttara, Bangladesh (Rotary Club)
Dhaka Mid City, Bangladesh (Rotary Club)
Ahsan Manzil, Dhaka, Bangladesh (Rotary Club)
Greater Dhaka, Bangladesh (Rotary Club)
Dhaka Uptown, Dhaka, Bangladesh (Rotary Club)
Sher-E-Bangla Nagar, Dhaka, Bangladesh (Rotary Club)
Gulshan Lake City, Bangladesh (Rotary Club)
Uttara Jhilmil, Bangladesh (Rotary Club)
Metropolitan Dhaka, Bangladesh (Rotary Club)
Kushtia, Bangladesh (Rotary Club)
Dhaka North South, Bangladesh (Rotary Club)
Aabahanikunja, Dhaka, Bangladesh (Rotary Club)
Dhaka Paradise, Bangladesh (Rotary Club)
Mirpur Central, Bangladesh (Rotary Club)
Dhaka Purbasha, Bangladesh (Rotary Club)
Uttara, Bangladesh (Rotary Club)
Lalmonirhat, Bangladesh (Rotary Club)
Gulshan Park City, Bangladesh (Rotary Club)
Dhaka Rose Vale, Bangladesh (Rotary Club)
Dhaka Water Bridge, Bangladesh (Rotary Club)
Adhunik Dhaka, Bangladesh (Rotary Club)
Rajdhani Dhaka, Bangladesh (Rotary Club)
Aabartan Dhaka, Bangladesh (Rotary Club)
Metropolitan Khulna, Bangladesh (Rotary Club)
Banani Dhaka, Dhaka, Bangladesh (Rotary Club)
Uttara Model Town, Bangladesh (Rotary Club)
Dhaka Paltan, Bangladesh (Rotary Club)
Dhaka Golden City, Bangladesh (Rotary Club)
Dhaka South, Bangladesh (Rotary Club)
Dhaka North West, Bangladesh (Rotary Club)
Dhaka Fort, Bangladesh (Rotary Club)
Dhaka Bright, Dhaka, Bangladesh (Rotary Club)
Dhaka Phoenix, Bangladesh (Rotary Club)
Dhaka Downtown, Bangladesh (Rotary Club)
Dhaka Pioneer, Bangladesh (Rotary Club)
Gulshan Avenue, Dhaka, Bangladesh (Rotary Club)
Purbachal Green City, Dhaka, Bangladesh (Rotary Club)
Shahbagh, Bangladesh (Rotary Club)
Eskaton Dhaka, Bangladesh (Rotary Club)
Dilkusha, Dhaka, Bangladesh (Rotary Club)
Dhaka East, Bangladesh (Rotary Club)
Patuakhali, Bangladesh (Rotary Club)
Banashree Dhaka, Bangladesh (Rotary Club)
Dhaka Buriganga, Bangladesh (Rotary Club)
Dhaka New City, Bangladesh (Rotary Club)
Lighthouse Dhaka, Bangladesh (Rotary Club)
Shantinagar Dhaka, Bangladesh (Rotary Club)
Dhaka City, Bangladesh (Rotary Club)
Alokito Dhaka, Bangladesh (Rotary Club)
Ramna, Bangladesh (Rotary Club)
Sonargaon Dhaka, Bangladesh (Rotary Club)
Dhaka Stars, Dhaka, Bangladesh (Rotary Club)
Dhaka Abani, Bangladesh (Rotary Club)
Dhaka Metropol, Bangladesh (Rotary Club)
Dhaka Pallabi, Bangladesh (Rotary Club)
Kakrail Dhaka, Bangladesh (Rotary Club)
Dhaka Green, Bangladesh (Rotary Club)
Dhaka, Bangladesh (Rotary Club)
Tongi, Bangladesh (Rotary Club)
Dhaka Kawran Bazar, Bangladesh (Rotary Club)
Jahangirnagar Dhaka, Bangladesh (Rotary Club)
Dhaka Royal, Dhaka, Bangladesh (Rotary Club)
Dhaka North East, Bangladesh (Rotary Club)
Dhaka Paragon, Bangladesh (Rotary Club)
Banani Model Town, Bangladesh (Rotary Club)
Dhaka Urbana, Bangladesh (Rotary Club)
Dhaka Premier, Bangladesh (Rotary Club)
Uttara Lake View, Bangladesh (Rotary Club)
Basundhara Dhaka, Bangladesh (Rotary Club)
Dhaka North, Bangladesh (Rotary Club)