Rtn Barrister Shafayat Ullah MPHF is a second generation Rotarian. His father, Rtn PP ATM Taher Ullah PHF, has been a prominent member of the Rotary Club of Dhaka and has served as the President of this prestigious club in the year 2004-05. Barrister Shafayat Ullah has started his journey of Rotary Fellowship from his school life in the year 1994 by joining the Interact movement in Interact Club of St. Joseph High School. He later joined the Interact Club of Dhaka Paramounts and served as their President for 2 consecutive years in 1997-1999. He was also a Rotaractor of Rotaract Club of Dhaka. Interact Club of St. Joseph High School, Interact Club of Dhaka Paramounts and Rotaract Club of Dhaka have all been sponsored by Rotary Club of Dhaka.
His association with Rotary club of Dhaka goes way back to 1988 when he entered the family as a Rotary-Let holding the hand of his father Rtn PP ATM Taher Ullah PHF. He later joined Rotary Club of Dhaka in 2011 as a Rotarian and since then he is actively involved in Rotary activities. He served the club in all the positions in the Board before nally being elected as the President 2020-21. He is a very enthusiastic Rotarian who loves fellowship and actively takes part in development of the underprivileged people. He has been generous in dedicating his time and eort in working for the well-being of the less fortunate. He is a Rotary Volunteer.
By profession, Rtn Shafayat Ullah is a Barrister of the Honourable Society of Lincoln's Inn, London, UK and also enrolled as an Advocate of the Bangladesh Bar Council and has permission to practice in the High Court Division of the Supreme Court of Bangladesh.
Presently he is serving as the Executive Vice President and Head of Group Legal Aairs at Mutual Trust Bank Ltd. He was also the Executive Vice President and Head of Legal at The City Bank Ltd and served the Bank for 4 years as the Chief Legal Consultant.
He is extensively appreciated for his ability to treat even the most complex of clients with courtesy and with great consideration.He is known for giving eye-catching presentation both in and out of Courtroom. He is also the founder partner of Chowdhury & Ullah, Barristers, Advocates and Dispute Resolution Specialists, established in 2010, a vibrant law rm providing the service to
meet the demands of the growing world of divergent legal issues and maintaining high professional standards.
Brought up in an established family, and having received his education from one of the top schooling institutions in St Joseph High School, Dhaka his academic excellence has been well documented. His College was Ries Public School & College, Dhaka and graduated from University of London in the year 2003. He successfully completed Post Graduate Diploma in Law (PGDL) with a grade of 'Very Competent' in the year 2004 from the Inns of Court Schools of Law (ICSL), City University, London, UK. He was called to the Bar of England and Wales by the Honourable Society of Lincoln's Inn, London, UK in 2004.
Perhaps, his passion for learning is best signied when in 2003 he became the rst Bangladeshi student to receive the University of London Academic Achievement Award by Princess Anne Royale, the Chancellor of the University. He also received numerous National and International trainings on International Commercial Mediation and Arbitration.
He is the Founder President of Millennium Lawyers' Alliance, an association of foreign Law Graduates practising in Bangladesh.
He is also an active member of Barristers' Association of Bangladesh which is an association of all the British Barristers practising in Bangladesh.
Rtn Barrister Shafayat Ullah has travelled many countries and attended numerous International Conferences, Seminars and Trainings that has led him to communicate and get involved with individuals and experts from diversied background.
Rtn Barrister Shafayat Ullah is married and blessed with one son and one daughter. Besides, he holds great interest in sports, notably Cricket, Football, Badminton and Table Tennis. He is very proud to represent Bangladesh Lawyers Cricket Team wearing Red and Green as the Opening Batsman in the Lawyers' International Cricket World Cup twice, once in Australia in
2015 and then in Sri Lanka in 2017.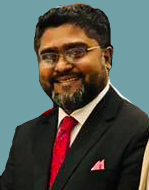 Rtn Shafayat Ullah PHF
President