Rtn. Dr. Niaz Abdur-Rahman, PHF, B, MD Is presently Consultant Vitreo Retina Surgeon and Managing Director of Bangladesh Eye Hospital.
 In his professional life he introduced modern retina surgery in Bangladesh and pioneered the first Retina Clinic in 1988. Later founded the Retina Foundation and Eye Center in Gulshan, Dhaka that played a major role in delivering eye care related to posterior segment disorders and training fellows. Ten years ago, along with a group of eye  specialists, he founded the Bangladesh Eye Hospital which has proved to be the most advanced centre for Ophthalmology in the private sector in the country.
 Dr. Abdur-Rahman was awarded the prestigious Hubert H. Humphrey Fellowship and obtained MPH with Public Health Ophthalmology from the Johns Hopkins University, USA.  He was also awarded a Fellowship in Retina Vitreous from University of British Columbia, Canada. He received a number of National Awards notably the Prof. M. A. Matin Gold Medal and the Mabarak Ali Award for his scientific work. The Asia Pacific Academy of Ophthalmology in 2012 awarded him the "Outstanding Service in Prevention of Blindness Award"
 Dr. Niaz Abdur-Rahman has over 60 national and international scientific publications. He has been an invited speaker and taught and conducted instruction courses in Retina Surgery in a number of international eye conferences as the American Academy, Asia Pacific Academy,  SAARC Ophthalmological Meetings and eye meetings throughout Bangladesh.
 Dr Niaz  has been born in a Rotary family  – he is the son of PGD M. Masihur Rahman and Prof. Roushanara Rahman – the founder if Inner Wheel in Bangladesh. He was an Interactor in his school days and an active Rotaractor during Medical College. Although he joined Rotary late, as he was extremely busy professionally, but now is an active Rotarian of RC Dhaka and the in-coming  President for 2019-2020.
 Dr Niaz is an active social worker & philanthropist. He also has varied interests notably wildlife photography and conservation of birds. He is married and blessed with one son, two daughters and three grandsons.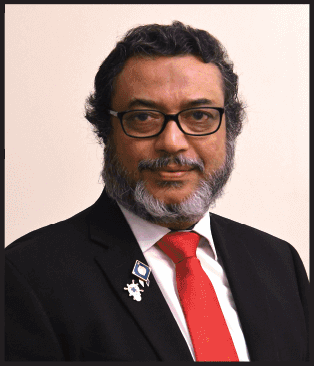 Rtn Dr Niaz abdur Rahman PHF B MD
President